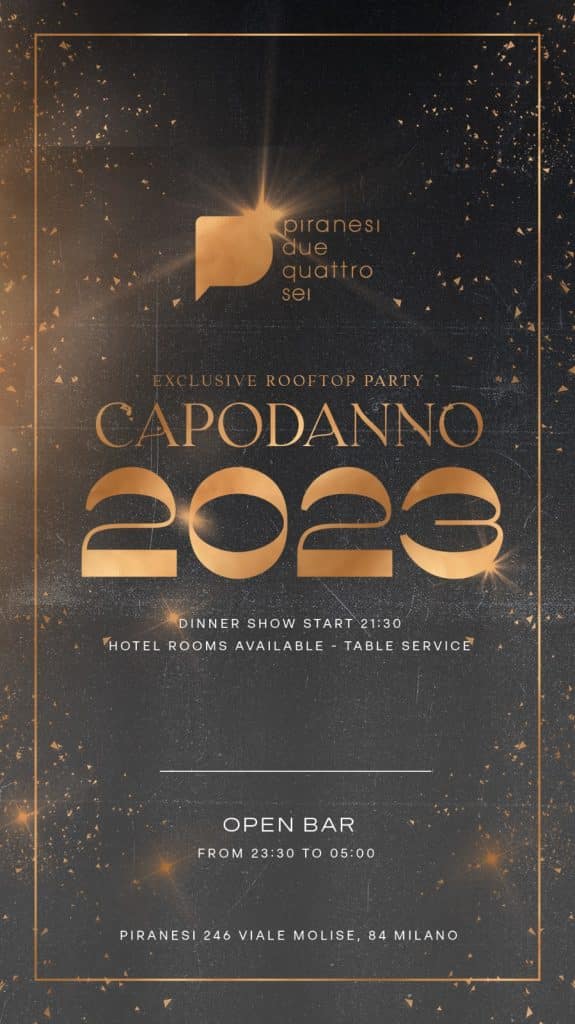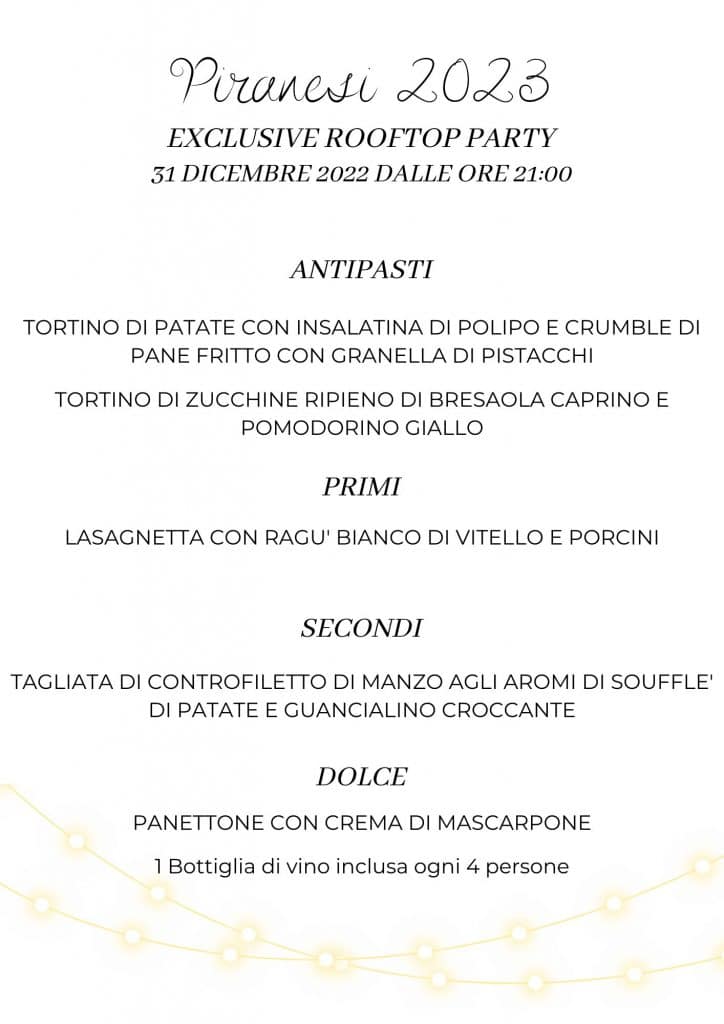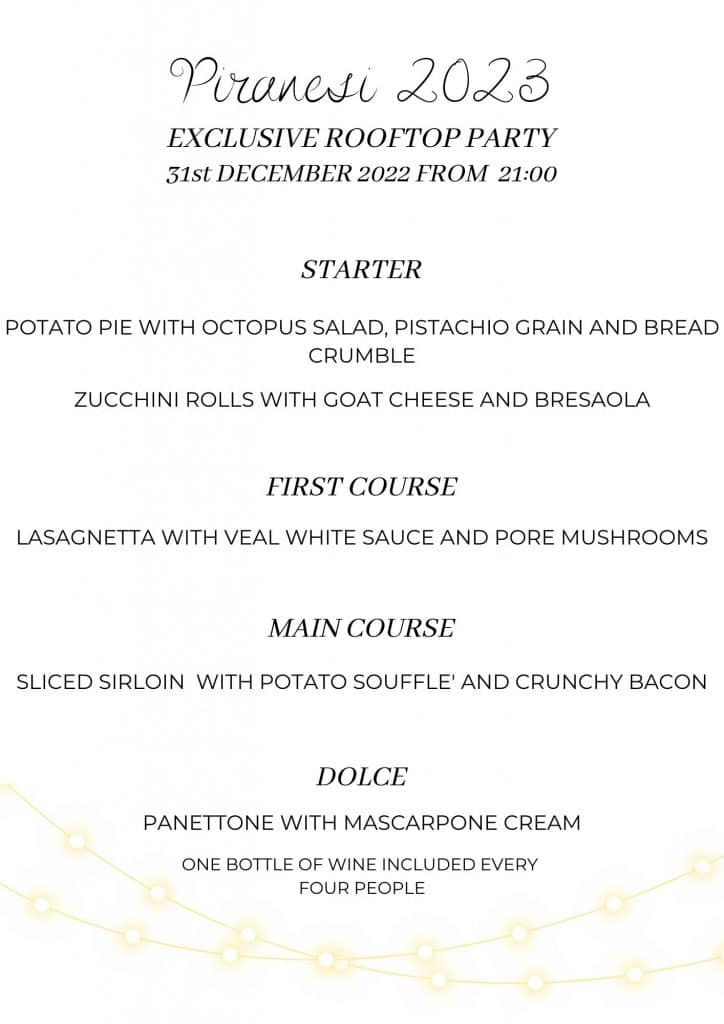 #Descrizione
Exclusive Rooftop Party @ Piranesi 246
Dedicato alla città e a chi la vive. Per un giorno o per sempre A new life style concept
31 DICEMBRE 2022 DALLE ORE 21:00
Vi aspettiamo!
Locale con musica!
Personale gentile e simpatico!
Nuova ristrutturazione!
Vista spettacolare!
Piranesi Duequattrosei
Piranesi Duequattrosei was conceived by Alberto Brugi and Alessandro Villa. It is an authentic place, a destination designed to redefine the interactions between business and relax.
The former industrial spaces convey the great Milanese vocation for business, an important legacy that the city is proudly rediscovering. And which finds its most complete dimension in Piranesi 246.
Piranesi 2023
EXCLUSIVE ROOFTOP PARTY
31 DECEMBER 2022 - FROM 9.00 PM
MENU
APPETIZERS
POTATO CAKE WITH OCTOPUS SALAD AND FRIED BREAD CRUMBLE WITH PISTACHIO GRAINS
COURGETTE PIE FILLED WITH CAPRINO BRESAOLA AND YELLOW TOMATOES
***
MAIN COURSE
LASAGNETTA WITH WHITE VEAL SAUCE AND PORCINI
***
SECOND COURSE
SLICED SINLOIN WITH BEEF AROMAS WITH POTATO SOUFFLE AND CRISPY CHEEK CHEEK
***
DESSERT
PANETTONE WITH MASCARPONE CREAM
***
1 bottle of wine included for every 4 people
Via Giovanni Battista Piranesi, 4
DINNER SHOW with dinner served: water and wine for every 4 people + open bar from 11.30pm + breakfast 150€

SOLD OUT!

WOMAN ENTRANCE from 11.30pm with open bar + breakfast 90€

SOLD OUT!

MAN ENTRANCE from 11.30pm with open bar + breakfast 100€

SOLD OUT!
Ecco 30 secondi di alcune delle canzoni che ascolterai sicuramente durante la serata
WOMAN ENTRANCE

The fee of 90€ includes:

Woman Entrance with Open Bar + Breakfast.

From 11.30pm.

SOLD OUT

90,00

€

MAN ENTRANCE

The fee of 100€ includes:

Man Entrance with Open Bar + Breakfast.

From 11:30pm.

SOLD OUT

100,00

€

DINNER SHOW WITH DINNER SERVED

The €130 fee includes:

Dinner Show with dinner served with water and wine for every 4 people + open bar from 11.30pm + breakfast.

SOLD OUT!!

150,00

€

DINNER SHOW WITH DINNER SERVED

150,00

€