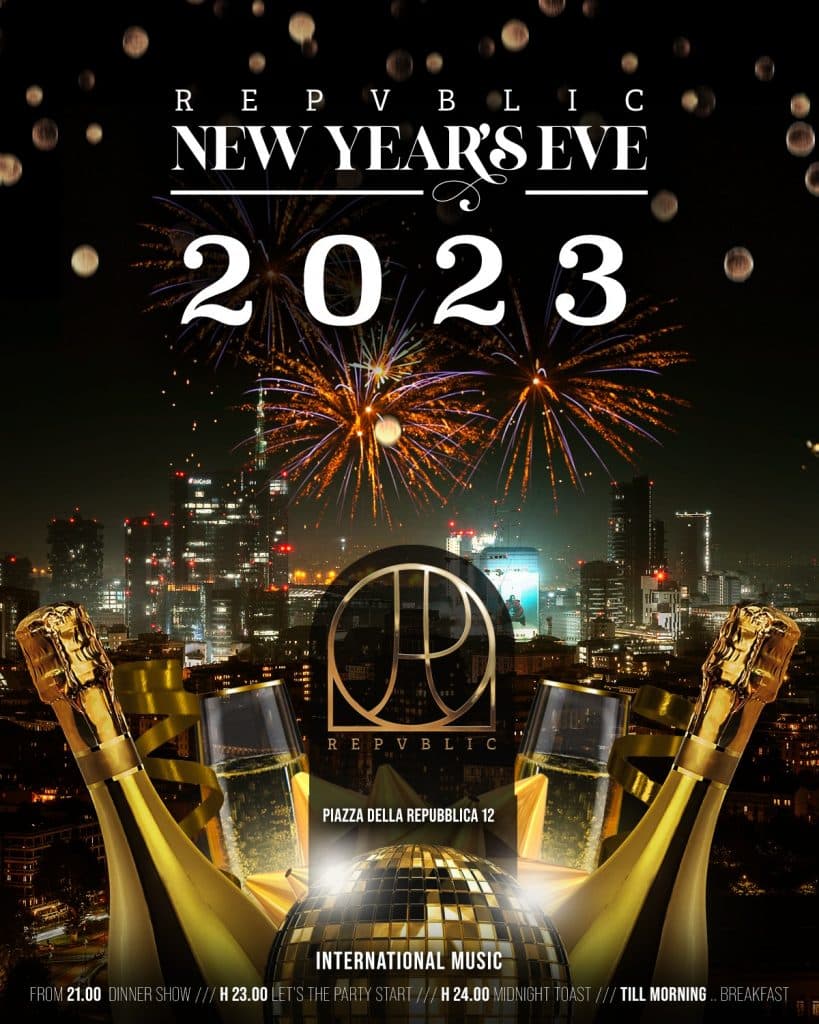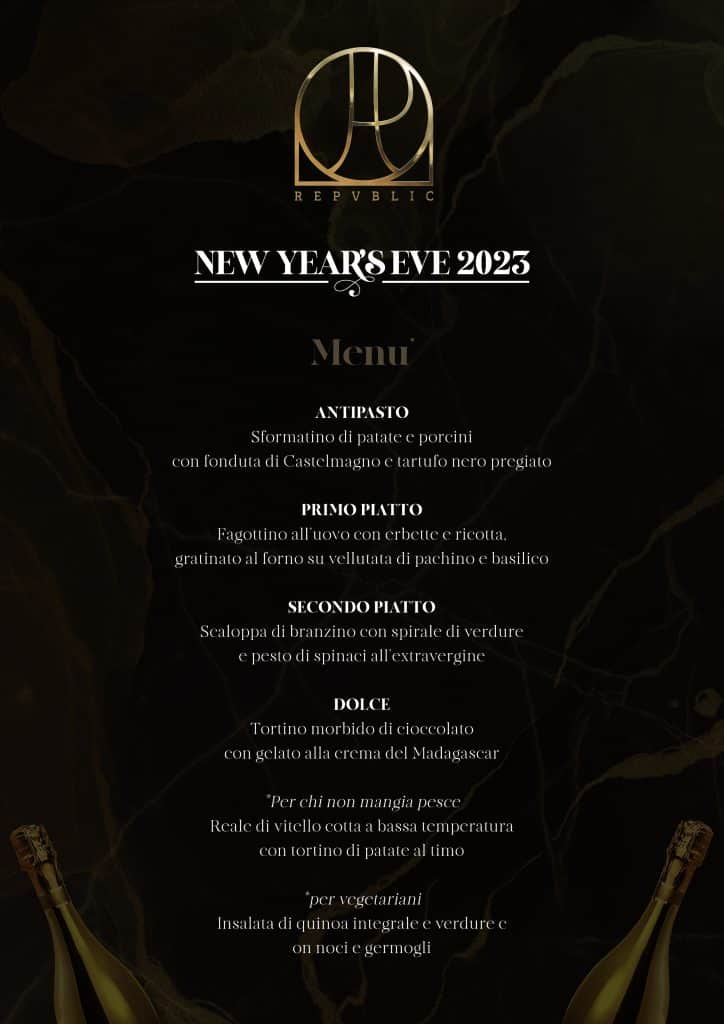 #Descrizione
CAPODANNO 2023
REPVBLIC MILANO
Repvblic Milano è il nuovo locale di riferimento dell'entertainment milanese, situato in Piazza della Repubblica, a pochi passi dalla Stazione Centrale è la location ideale dove trascorrere il tuo Capodanno 2023!
Location con design moderno e curato nei dettagli!
Nel cuore pulsante della città meneghina!
Un'accurata scelta musicale con console dj!
Ottimi drink grazie ai nostri esperti barman!
REPUBLIC MILANO
The new reference club of the Milanese nightlife Republic Milano is located in Piazza della Repubblica, the beating heart of the Milanese city.
Capable of grasping the spirit of his time, Republic Milano is the "Place to be" for Worldwide customers present in the city Republic Milano proposes itself as an interesting concept in which design, service high quality and an accurate musical choice merge in an excellent way.
The location of about 400sqm is equipped with reception, wardrobe service, three separate bathrooms, two distinct rooms, two equipped bar benches, a smoking area and a direction complete with audio controller and lights.
We are waiting for you for a fantastic New Year 2023!
Menù
NEW YEAR'S EVE 2023
STARTER
Potato and porcini flan with Castelmagno fondue and prized black truffle
***
FIRST DISH
Egg dumpling with herbs and ricotta, baked au gratin on cherry tomato and basil cream
***
SECOND DISH
Sea bass escalope with spiral vegetables and spinach pesto with extra virgin olive oil
***
DESSERT
Soft chocolate cake with Madagascar ice cream
*For those who don't eat fish
Royal veal cooked at low temperature with thyme potato pie
*For vegetarians
Wholemeal Quinoa and Vegetable Salad with Nuts and Sprouts
DINNER SHOW with dinner served with water and wine for every 4 people + 1 drink + 1 flute for the midnight toast + breakfast. €130

SOLD OUT!

ENTRANCE h 11.30 pm with a drink + midnight flute + breakfast. 60€
TABLE from 11.30pm 600€ for 8 people
Ecco 30 secondi di alcune delle canzoni che ascolterai sicuramente durante la serata
DINNER SHOW WITH DINNER SERVED

The fee of 130€ includes:

Dinner Show with dinner served + water + wine for every 4 people + 1 drink + 1 flûte for Midnight Toast + breakfast.

Early ticket

SOLD OUT!

130,00

€

DINNER SHOW WITH DINNER SERVED

130,00

€

ENTRANCE

The fee of 50€ includes:

entrance at 11.30pm + 1 drink + 1 midnight flute + breakfast.

60,00

€

TABLE

The fee of 600€ includes:

Table with entrance from 11.30 pm

FOR 8 PEOPLE

600,00

€