#2021 #90S #ANNI90 #ANNONUOVO #BOBINOCLUB #BOLLICINE #BRINDISI #CAPODANNO #CENONE #COCKTAIL #DANCE #DATURA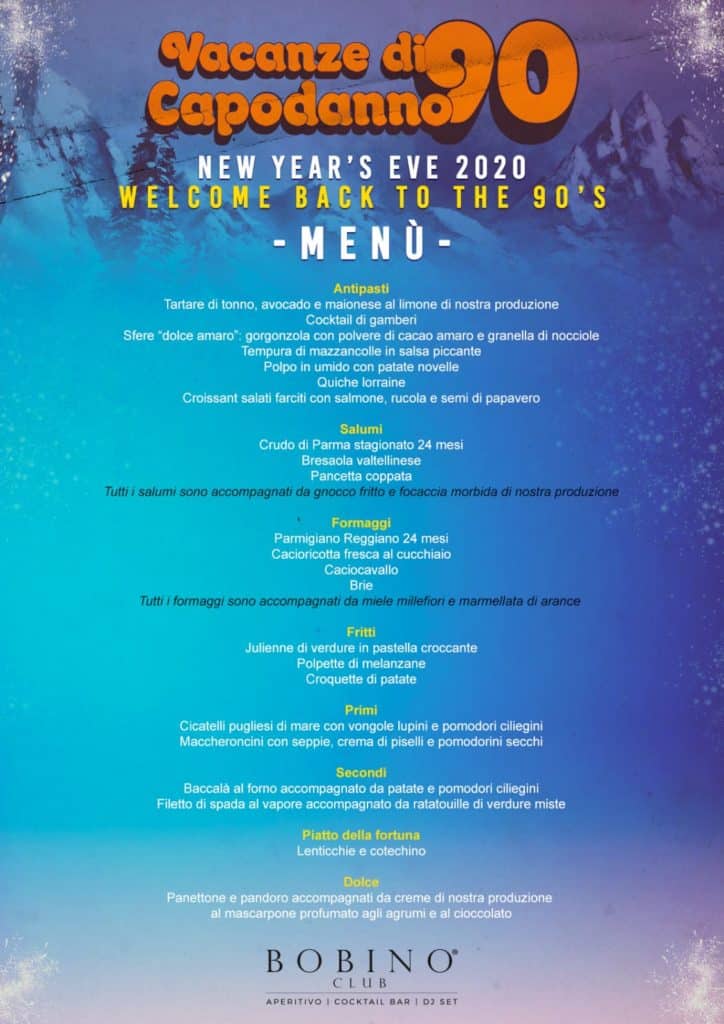 #Descrizione
BENVENUTI AL
BOBINO CLUB

Il Bobino si trova sul Naviglio Grande, luogo fondamentale per la vita notturna milanese.

Il locale è caratterizzato dall'arredamento ricercato, con divani in pelle color testa di moro e dettagli in legno e ferro battuto che, insieme alla tonalità scura delle pareti, rendono il Bobino un luogo dove rilassarsi e divertirsi. 
Le grandi vetrate della veranda introducono all'area estiva del locale affacciata direttamente sul Naviglio.
I barman sono veri e propri professionisti che realizzano deliziosi cocktails con qualificate selezioni di alcolici e superalcolici.
Bobino Club permette di divertirsi in relax, in un ambiente selezionato grazie alle esibizioni dal vivo dei maggiori gruppi musicali del panorama italiano e DJ Set di Davide Povia.
">
Piatti tipici della cucina mediterranea, essenziale e ricercata al tempo stesso con materie di stagione!
Mix tra stile Newyorkese e stile moderno!
Doppio palco per musica dal vivo e presentazioni!
Ampio parcheggio riservato a pagamento!
N E W Y E A R ' S E V E 2 0 2 0
BOBINO CLUB MILANO
For the last of the year, at the Bobino, buffet, toast and party, in a single location.
Milan New Year's Eve. 2019, a year of evenings together, to be concluded in a big way. Starts the countdown.
The restaurant is characterized by refined furnishings, with dark brown leather sofas and details in wood and wrought iron which, together with the dark tones of the walls, make the Bobino a place to relax and have fun.
From 8.30 pm: New Year's Grand Buffet. 60 € per person: 1 Bottle of Wine for every 4 people and 1 Bottle of Prosecco for every 4 people. Restricted and restricted access exclusively on PRE-SALE.
From 11.15pm: We Love The90s Party with DATURA & Happy Music with Deejay POVIA. 25 euros with 1 drink.
Ample reserved parking for a fee subject to availability.
Come and celebrate with us New Year's Eve 2021!
Menù
Appetizers
Tuna tartare, avocado and mayonnaise and lemon of our production
Shrimp cocktail
"Sweet bitter" spheres: gorgonzola with bitter cocoa powder and chopped hazelnuts
Shrimp tempura in spicy sauce
Octopus stewed with new potatoes
Quiche Lorraine
Savory croissants stuffed with salmon, rocket and poppy seeds
***
Cured meat
Raw Parma ham aged 24 months
Valtellina Bresaola
Pancetta coppata
All the meats are accompanied by fried gnocco and soft focaccia of our production.
***
Cheeses
Parmigiano Reggiano 24 months
Fresh spoon cacioricotta
Caciocavallo
Brie
All the cheeses are accompanied by wildflower honey and orange marmalade.
***
Fried
Vegetable julienne in crunchy batter
Eggplant meatballs
Potato croquettes
***
First
Apulian sea ciacatelli with lupine clams and cherry tomatoes
Maccheroncini with cuttlefish, pea cream and sechhi tomatoes
***
Seconds
Baked cod accompanied by potatoes and cherry tomatoes
Steamed sword fillet accompanied by mixed vegetable ratatouille
***
Plate of luck
Lentils and pork sausage
***
Sweet
Panettone and pandoro accompanied by creams of our production with mascarpone scented with citrus fruits and chocolate
NEW YEAR'S GREAT BUFFET: from 8.30 pm with 1 Bottle of Wine every 4 people and 1 Bottle of Prosecco every 4 people (Table at buffet time. Possibility to reserve a table without any additional cost. The restaurant guarantees 70% of the sessions .) 60€

SOLD OUT

PARTY: from 11.15pm with 1 drink. We Love The90s Party with DATURA, Happy Music with Deejay POVIA 25€

AVAILABLE

TABLE IN THE EVENING: 1 bottle of spirits of your choice! 180€ + advance sale fee (€ 25) AVAILABLE
Ecco 30 secondi di alcune delle canzoni che ascolterai sicuramente durante la serata
GRAN BUFFET DI CAPODANNO H20:30 (1 Bottiglia di Vino ogni 4 persone + 1 Bottiglia di Prosecco ogni 4 persone)

La quota di 60€ include:

* 1 Bottiglia di Vino ogni 4 persone

* 1 Bottiglia di Prosecco ogni 4 persone

Tavolo in orario buffet: possibilità di riservare un tavolo senza nessun costo aggiuntivo. Il locale garantisce il 70% delle sedute. 

Dalle ore 20:30

TUTTO ESAURITO!

60,00

€

GRAN BUFFET DI CAPODANNO H20:30 (1 Bottiglia di Vino ogni 4 persone + 1 Bottiglia di Prosecco ogni 4 persone)

60,00

€

SERATA H23:15 con 1 drink

La quota di 25€ include :

* SERATA con We Love The90s Party con i DATURA & Happy Music con Deejay POVIA

* 1 drink

Dalle ore 23:15

TUTTO ESAURITO!

25,00

€

SERATA H23:15 con 1 drink

25,00

€

GRAN BUFFET DI CAPODANNO H20:30 2 persone Bobino Club + Pernottamento in camera doppia al Crowne Plaza Milano Linate

VALIDO PER DUE PERSONE (110€ a persona)

GRAN BUFFET DI CAPODANNO H20:30 al Bobino Club + 1 NOTTE 220€ (31/12/2019 – 1/1/2020)

SU RICHIESTA: 2 NOTTI 290€ (145€ a persona)

3 NOTTI 360€ (180€ a persona)

La quota di 220€ include:

Gran Buffet di Capodanno (ingresso dalle ore 20:30) per due persone al Bobino Club con 1 Bottiglia di Vino e 1 Bottiglia di Prosecco ogni 4 persone. Tavolo in orario buffet: possibilità di riservare un tavolo senza nessun costo aggiuntivo *

Pernottamento in camera doppia al Crowne Plaza Milano Linate *

American Breakfast con croissant, selezione di brioche, selezione di torte secche, selezione di pani, pancake, etc… *

La colazione sarà servita fino alle ore 12:00

City tax *

Check-in il giorno 31/12/2019 dalle ore 15:00

Late check-out il giorno 1/1/2020 alle ore 16:00

TUTTO ESAURITO!

220,00

€

GRAN BUFFET DI CAPODANNO H20:30 2 persone Bobino Club + Pernottamento in camera doppia al Crowne Plaza Milano Linate

220,00

€

SERATA H23:15 2 persone Bobino Club + Pernottamento in camera doppia al Crowne Plaza Milano Linate

VALIDO PER DUE PERSONE (75€ a persona)

SERATA H23:15 al Bobino Club + 1 NOTTE 150€ (31/12/2019 – 1/1/2020)

SU RICHIESTA: 2 NOTTI 220€ (110€ a persona)

3 NOTTI 290€ (145€ a persona)

La quota di 150€ include:

Serata (ingresso dalle ore 23:15) per due persone al Bobino Club con We Love The90s Party con i DATURA & Happy Music con Deejay POVIA + 1 drink ciascuno *

Pernottamento in camera doppia al Crowne Plaza Milano Linate *

American Breakfast con croissant, selezione di brioche, selezione di torte secche, selezione di pani, pancake, etc… *

La colazione sarà servita fino alle ore 12:00

City tax *

Check-in il giorno 31/12/2019 dalle ore 15:00

Late check-out il giorno 1/1/2020 alle ore 16:00

TUTTO ESAURITO!

150,00

€

SERATA H23:15 2 persone Bobino Club + Pernottamento in camera doppia al Crowne Plaza Milano Linate

150,00

€

TAVOLO IN SERATA: 1 Bottiglia di Superalcolico a scelta! + la Prevendita di ingresso (25€)

La quota di 180€ include:

* TAVOLO IN SERATA

* 1 Bottiglia di Superalcolico a scelta!

Da acquistare con la Prevendita di ingresso (25€)

TUTTO ESAURITO!

180,00

€

TAVOLO IN SERATA: 1 Bottiglia di Superalcolico a scelta! + la Prevendita di ingresso (25€)

180,00

€