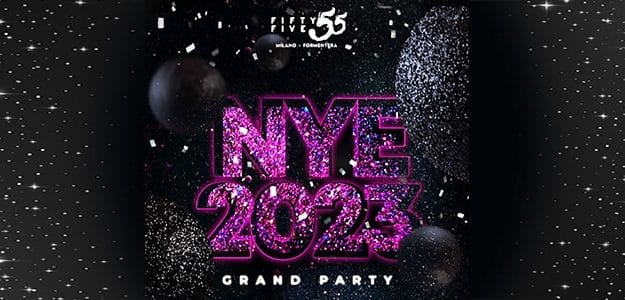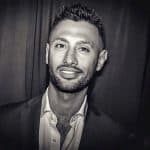 Capodanno Fifty Five
Via Piero della Francesca, 55/A,

Milano,

Milano,

Italy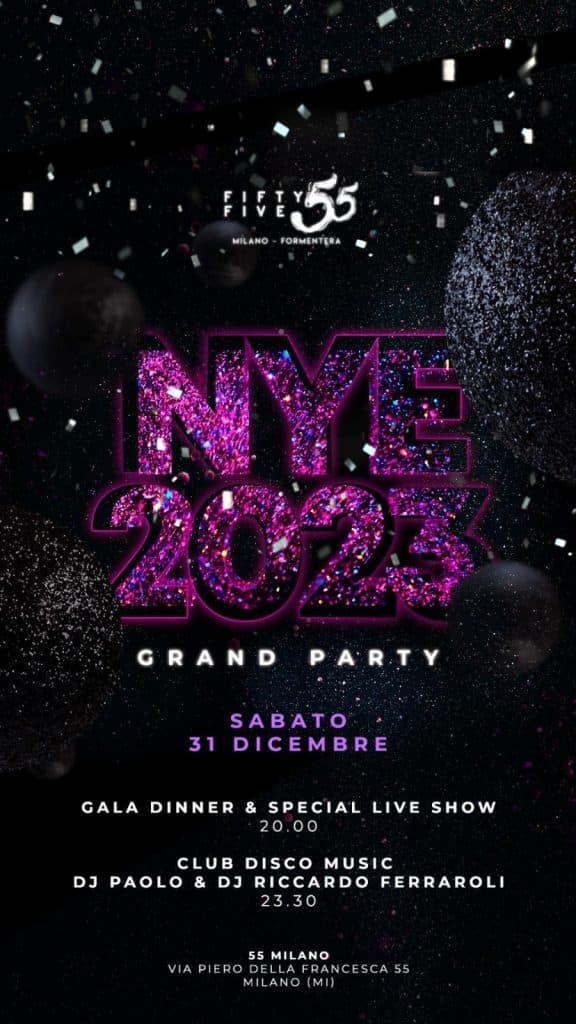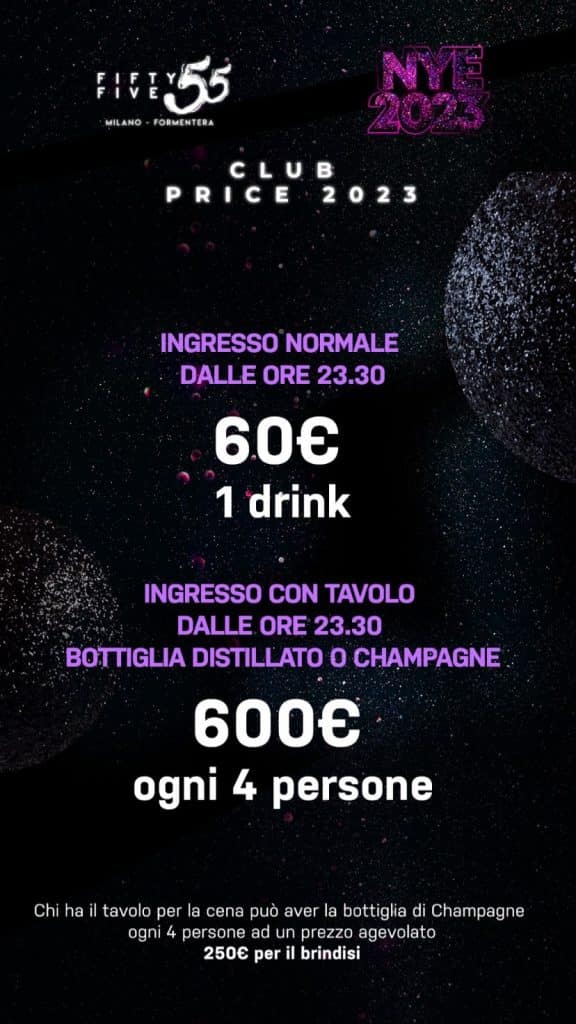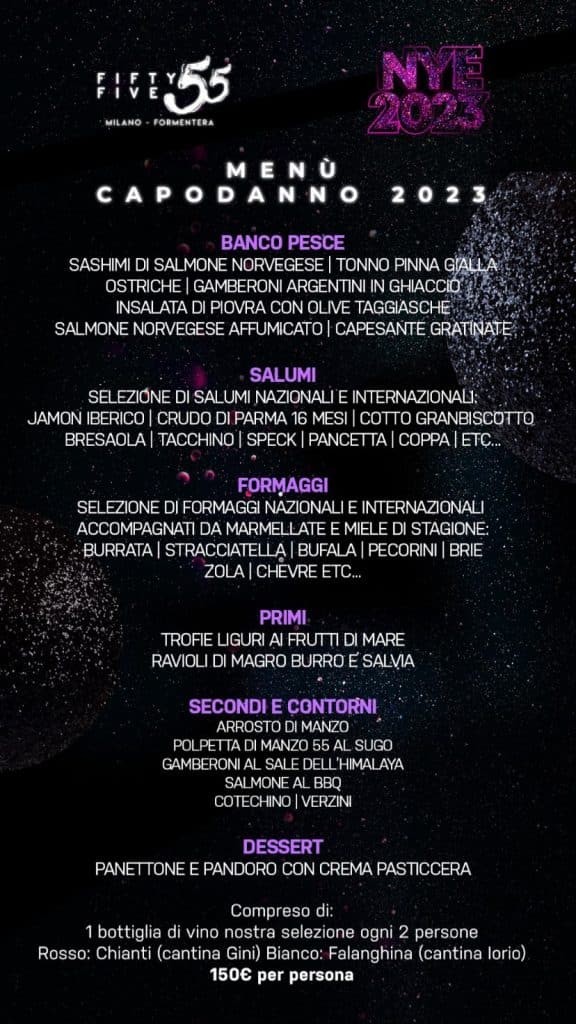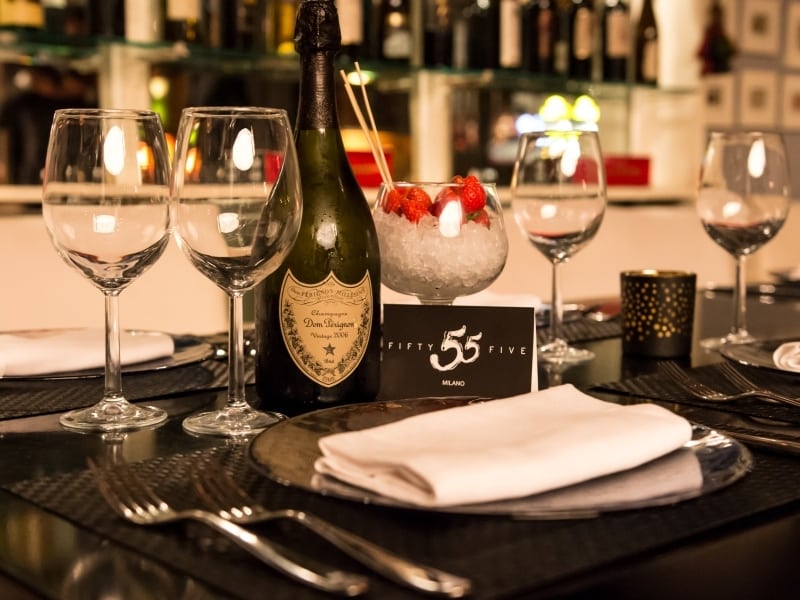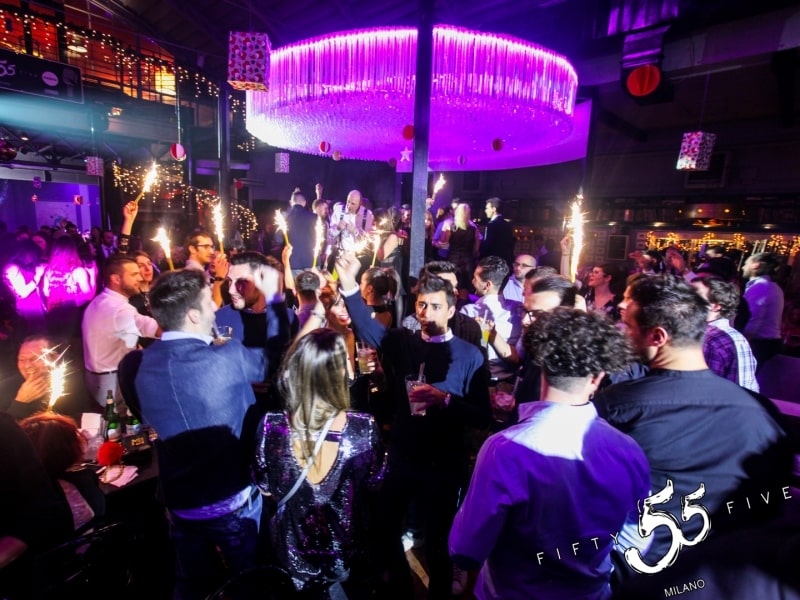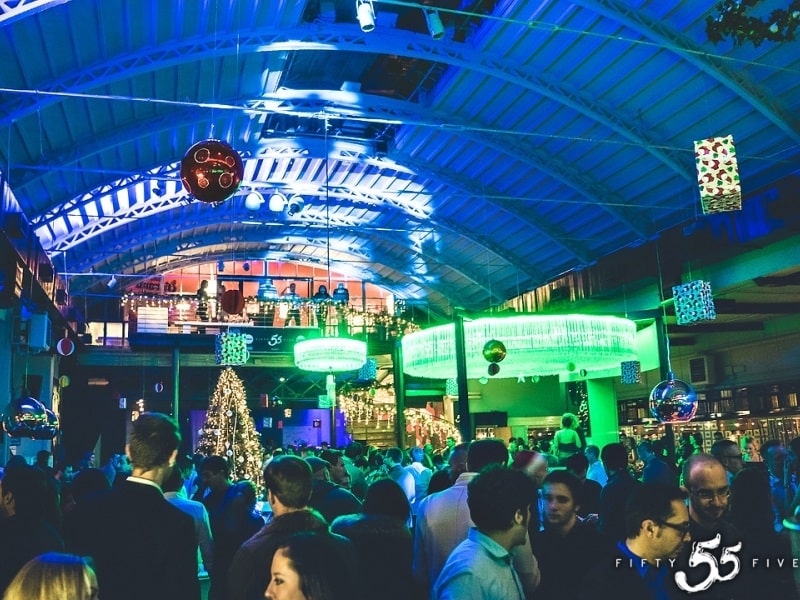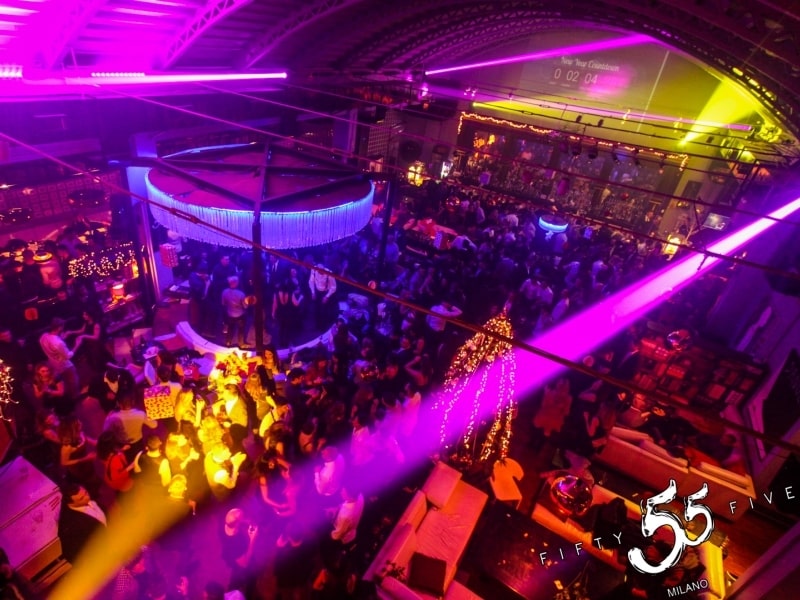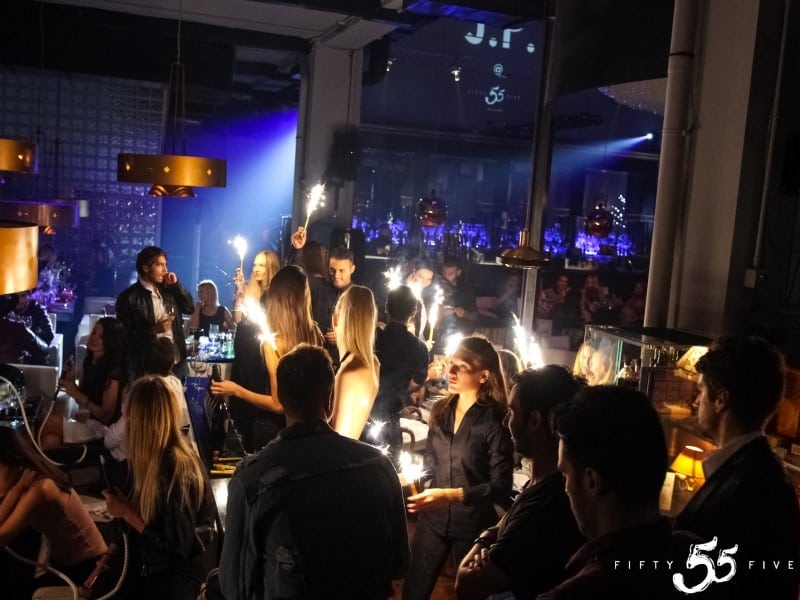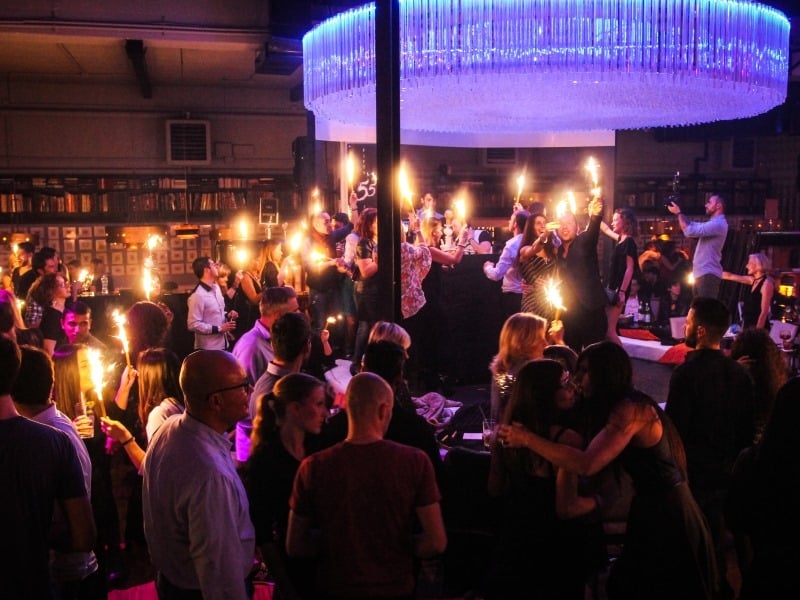 #Descrizione
CAPODANNO 2023
55 Milano
Una location storica, di gran fascino ed unica nel suo genere, abbinata ora ad un team giovane e dinamico. È questo il 55 Milano, che, pur mantenendo il collaudato format e l'esclusività del vecchio Roialto, intende migliorarsi ancora ed offrire di più ai suoi clienti.
Situato in via Piero della Francesca 55, in una delle aree più prestigiose e ricercate di Milano, in prossimità dell'ex stazione ferroviaria della Bullona, il 55, creativamente ricavato da un ex deposito ferroviario, offre mille metri quadri di open space frazionabili a seconda delle esigenze e seicento metri quadri di terrazza.
Il bancone cubano di venticinque metri in legno di noce del 1927, illuminato da un imponente lampadario dello stesso periodo storico, fa da cornice al locale rendendolo ancor più originale e unico. Il 55 Milano vuole mantenere il concept preciso e inimitabile che ha reso storica questa location, accogliendo gli ospiti in un'atmosfera calda e raffinata per l'aperitivo e per il dopocena.
Uno dei Lounge Bar più grande al mondo!
Situato in una delle zone più IN di Milano!
Arredi di design!
DJ set station che vi accompagnerà per tutta la serata!
NEW YEAR'S EVE 2023
55 Milano
For this New Year's Eve we have decided to maintain the precise and inimitable concept that made this location historic, welcoming guests in a warm and refined atmosphere for dinner and after dinner.
DINNER 20:00 | MUSIC 11.30pm
NEW YEAR'S MENU
55 MILANO
FISH
- Norwegian salmon sashimi
- Yellowfin tuna steak
- Oysters
- Argentinian prawns served on ice
- Octopus salad with taggiasche olives
- Smoked Norwegian salmon
- Scallops Au Gratin
COLD CUTS
- Selection of Italian and international cold cuts including: Iberian ham, seasoned Parma ham,  bresaola, turkey, speck, pancetta, coppa, etc...
CHEESES
- Selection of Italian and international cheeses accompanied by seasonal marmalades and honeys and including: Burrata, stracciatella, Bufalo mozzarella, Pecorino, Brie, Gorgonzola, etc...
FIRST COURSES
- Seafood trofie pasta
- Ravioli in butter and sage
SECOND COURSES AND SIDES
- Baked veal / Roast beef
- Beef meatballs
- Prawns seasoned with Himalayan salt
- Barbecued salmon
- Roasted potatoes / Grilled zucchine
SPECIAL BUFFET STATIONS
- Polenta with variousy sauces – Moscardini – Lentils - Cotechino - Verzini
DESSERT
Panettone e pandoro con crema pasticcera
Buffet menù with seating from: 20.00 pm € 150.
The menu include 1 bottle of wine from our selection every 2 people
Red wine:
Chianti (Gini - collection)
White wine:
Falanghina (iorio - collection )
______________
if you have a table for dinner you can have a Special Price €250 for every 4 people with a bottle of champagne included.
DINNER: H20:00 | 1 BOTTLE EVERY 2 PEOPLE €150   

SOLD OUT

ENTRANCE: H23:30 | 1 DRINK €60 

ONLINE ENTRANCE TICKET TERMINATED.

In the evening you can only enter with an entrance but by going to the club.
ENTRANCE WITH TABLE: H23:30 | BASIC BOTTLE (DISTILLATO OR CHAMPAGNE) €600 EVERY 4 PEOPLE
if you have a table for dinner you can have a Special Price €250 for every 4 people with a bottle of champagne included.
Ecco 30 secondi di alcune delle canzoni che ascolterai sicuramente durante la serata
DINNER MENU H20:00 | 1 BOTTLE FOR EVERY 2 PEOPLE

150,00

€

DINNER MENU H20:00 | 1 BOTTLE FOR EVERY 2 PEOPLE

150,00

€

1 BOTTLE OF CHAMPAGNE FOR EVERY 4 PEOPLE

The fee of €250 includes:

1 BOTTLE OF CHAMPAGNE FOR THE TOAST

VALID FOR 4 PEOPLE

ONLY for those who already have a table for dinner.

250,00

€

1 BOTTLE OF CHAMPAGNE FOR EVERY 4 PEOPLE

250,00

€

PARTY NORMAL ENTRANCE: H11.30pm | 1 DRINK

60,00

€

PARTY NORMAL ENTRANCE: H11.30pm | 1 DRINK

60,00

€

ENTRANCE WITH TABLE: H11.30pm | BASIC BOTTLE (DISTILLATES OR CHAMPAGNE) FOR EVERY 4 PEOPLE

600,00

€

ENTRANCE WITH TABLE: H11.30pm | BASIC BOTTLE (DISTILLATES OR CHAMPAGNE) FOR EVERY 4 PEOPLE

600,00

€