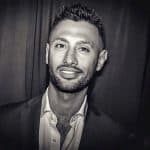 Capodanno Fifty Five 2020
Via Piero della Francesca, 55/A,

Milano,

Italy
Serata da € 30
Cenone da € 100
Description
A historic location, of great charm and unique, now combined with a young and dynamic team. This is the Milan 55, which, while maintaining the tried and tested format and the exclusivity of the old Roialto, intends to further improve itself and offer more to its customers.
Located in via Piero della Francesca 55, in one of the most prestigious and sought after areas of Milan, near the former Bullona railway station, 55, creatively converted from a former railway depot, offers a thousand square meters of open space that can be divided according to needs and six hundred square meters of terrace.
The Cuban counter of twenty-five meters in walnut wood of 1927, lit by an impressive chandelier of the same historical period, surrounds the room making it even more original and unique. The 55 Milan wants to keep the precise and inimitable concept that has made this location historic, welcoming guests in a warm and refined atmosphere for an aperitif and after dinner.
Prices
PARTY with 1 drink entry from 11.30 pm €30

AVAILABLE

PARTY with 3 drinks entry from 11.30 pm €50

AVAILABLE

GRAN GALA BUFFET includes 1 BOTTLE of wine our selection every 4 people | red: cabernet (torresella) | white: sauvignon (torresella) with seating from 20:30 to 22:30 100€

AVAILABLE

TABLE includes 1 BASIC BOTTLE (Distillates or Champagne) entrance from 11.30 pm €250 per 5 people

AVAILABLE
Buffet

The fee includes:

* 1 bottle of wine for every 4 people

100,00

€

Serata

La quota include:

*1 drink

30,00

€

Serata

La quota include:

*3 drink

50,00

€

Tavolo

La quota include:

*1 Bottiglia di Distillato o Champagne
*5 ingressi serata

250,00

€