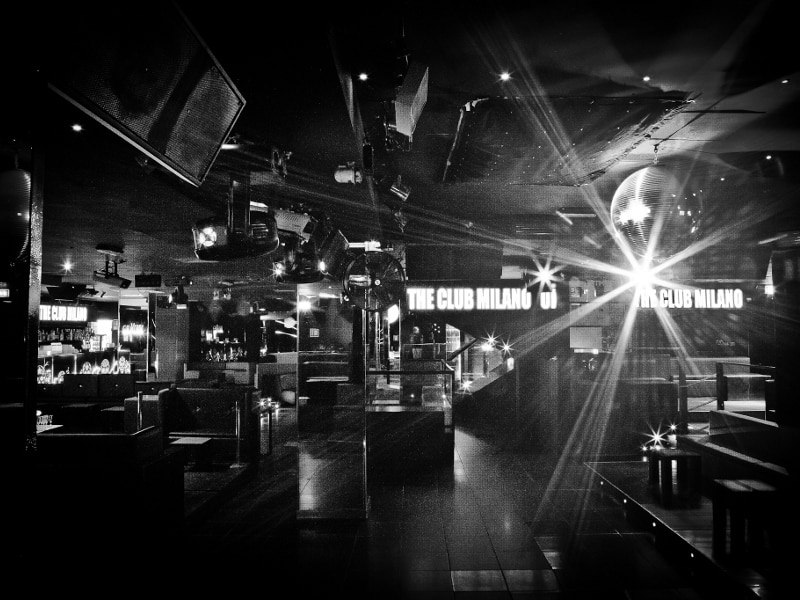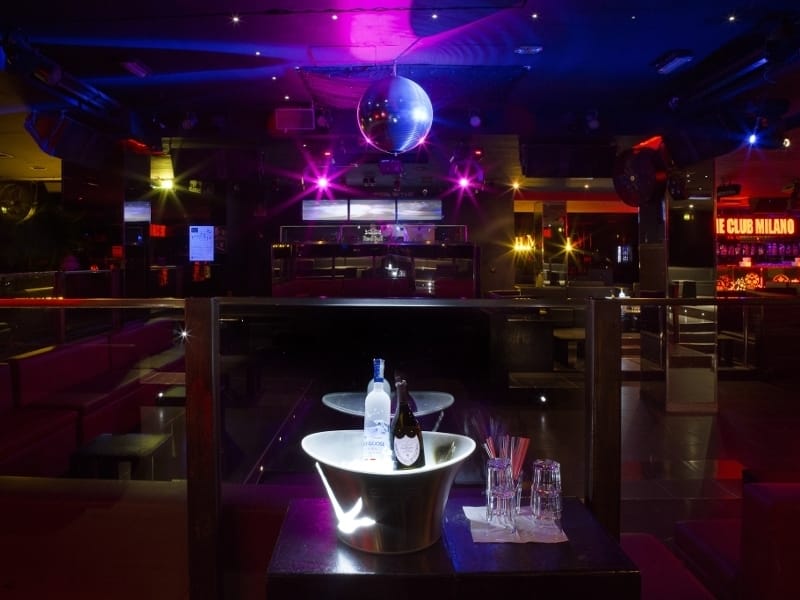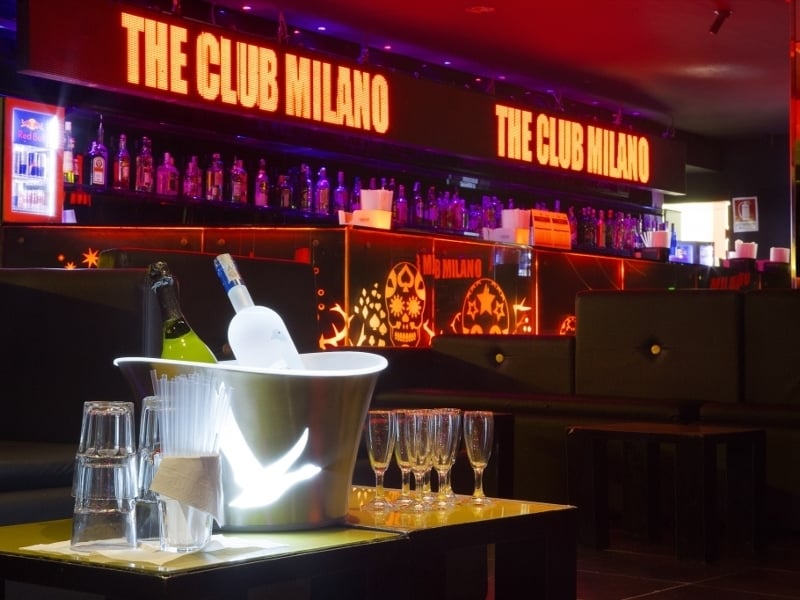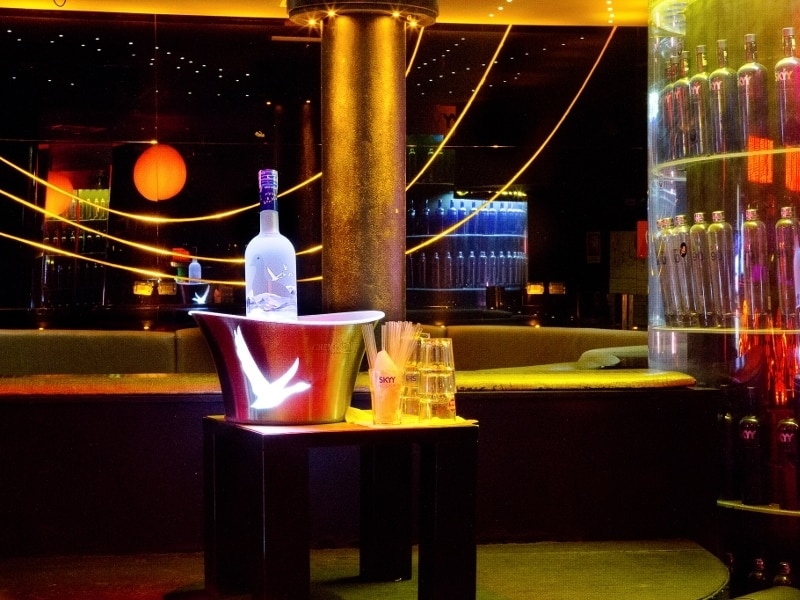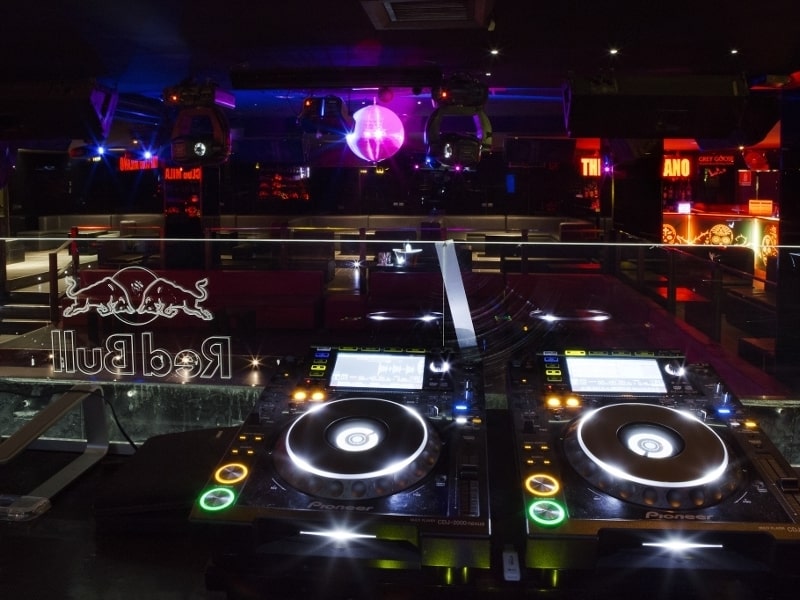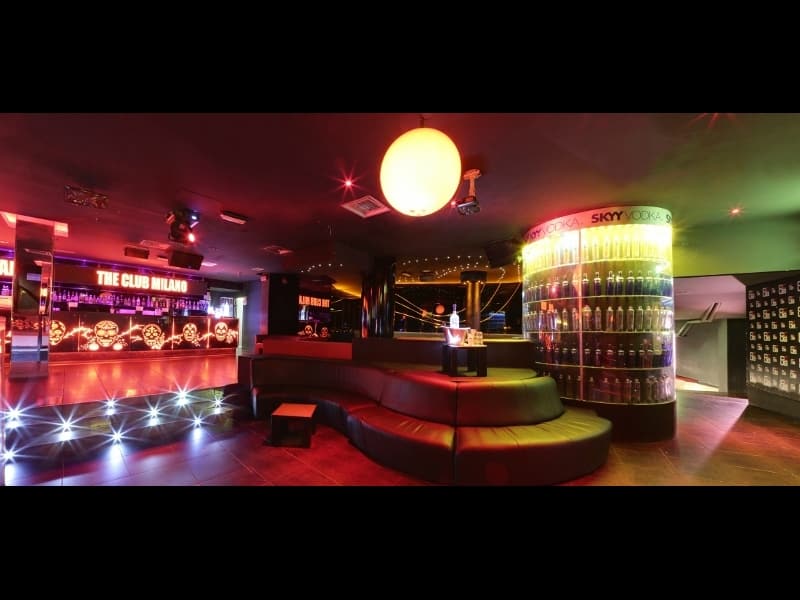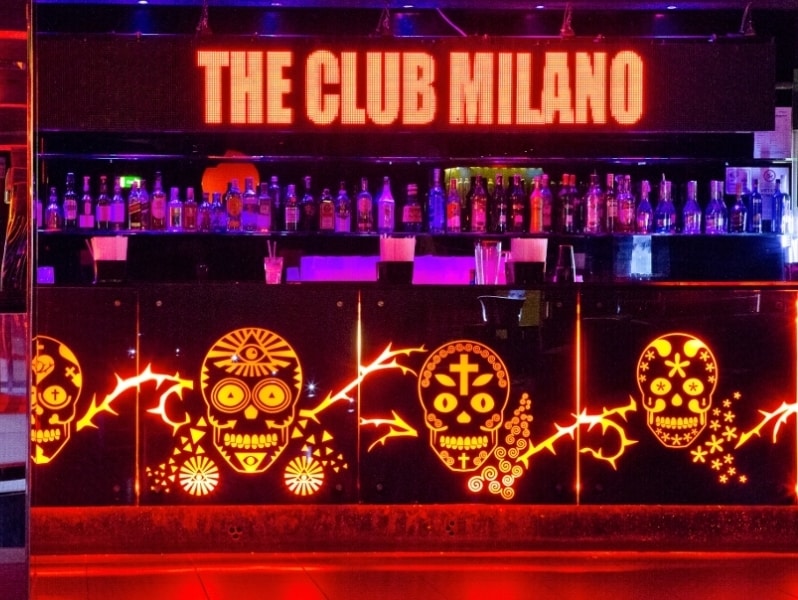 #Descrizione
BENVENUTI AL THE CLUB! La location Disco Club House più fashion and glamour di Milano. The Club, punto di riferimento dell'intrattenimento notturno milanese, per cinque sere alla settimana costantemente animato da un target differente ma omogeneo ogni sera. La costante presenza di eventi legati al mondo dello spettacolo e del settore moda come l'organizzazione degli after shows durante la fashion week, la partnership con i più famosi locali del mondo come il 1 oak e il Kiss & Fly di New York, il Pacha di Ibiza e numerose altre, alimentano di anno in anno la fama di luogo cult del divertimento. Il Privè super esclusivo è un melting pot internazionale caratterizzato dalla presenza costante di numerose modelle e di high rollers che animano fino a tarda notte le feste e gli eventi proposti dai migliori gruppi di PR internazionali.
Punto di riferimento della Night Life Milanese!
Situato nel cuore del quartiere di Brera!
Vip area esclusiva!
Performance, musica piena di ritmi e melodie che uniscono e fanno scatenare!
CAPODANNO 2022
THE CLUB
La Serata più importante dell'anno merita d'esser festeggiata nel locale N°1 di Milano, THE CLUB !
Per la Notte di San Silvestro vi aspettiamo al nostro "Gran Galà" nella sua versione più brillante e passionale,
colore RED&GOLD ; creeremo un'atmosfera unica, per una serata indimenticabile!
Ovviamente vi aspettiamo con un accessorio e un tocco DORATO o SCARLATTO!
*****
LA NOSTRA DISCOTECA EFFETTUA SELEZIONE ALL'INGRESSO
- Sono preferiti i gruppi misti di ragazzi e ragazze. non sono ammessi gruppi di soli uomini
- È consigliato un look elegante ed adeguato alle circostanze
- Non sono ammessi minorenni (è necessario essere muniti di un documento d'identità valido, non sono ammesse fotocopie)
- Non sono ammesse persone visibilmente ubriache
Ingresso Serata + Cena a Buffet ore 20:30
include 2 calici di vino + 1 drink e 1 flute di spumante per il brindisi di mezzanotte
100€

DISPONIBILE

Ingresso Serata ore 23:00 include
1 drink + 1 flute di benvenuto
70€

DISPONIBILE

Dance Floor Table Area - Entrance at 11P.M. - 2 Bottles of Champagne or Spirit + 1 Free Drink Each Person + 1 Welcome Drink Prosecco Each Person - Maximum 8 People


1.050

€

DISPONIBILE

DJ Booth Table VIP Area - Entrance at 11P.M. - 2 Bottles of Champagne or Spirit + 1 Free Drink Each Person + 1 Welcome Drink Prosecco Each Person - Maximum 8 People
1.150

€

DISPONIBILE

Super Privè VIP Area - Entrance at 11P.M. - 2 Bottles of Champagne or Spirit + 1 Free Drink Each Person + 1 Welcome Drink Prosecco Each Person - Maximum 8 People


1.250

€

DISPONIBILE

Dance Floor Table Area - Dinner Buffet Included - Entrance at 8:30P.M. - 2 Bottles of Champagne or Spirit + 2 Wine Glasses Each Person + 1 Free Drink Each Person + 1 Welcome Drink Prosecco Each Person - Maximum 8 People
1.350

€

DISPONIBILE

DJ Booth Table VIP Area - Dinner Buffet Included - Entrance at 8:30P.M. - 2 Bottles of Champagne or Spirit + 2 Wine Glasses Each Person + 1 Free Drink Each Person + 1 Welcome Drink Prosecco Each Person - Maximum 8 People


1.450

€

DISPONIBILE

Super Privè VIP Area - Dinner Buffet Included - Entrance at 8:30P.M. - 2 Bottles of Champagne or Spirit + 2 Wine Glasses Each Person+ 1 Free Drink Each Person + 1 Welcome Drink Prosecco Each Person - Maximum 8 People
1.550

€

DISPONIBILE

Dance Floor Table Area

- Entrance at 11P.M. - 3 Bottles of Champagne or Spirit + 1 Free Drink Each Person + 1 Welcome Drink Prosecco Each Person - Maximum 12 People


1.600

€

DISPONIBILE

DJ Booth Table VIP Area

- Entrance at 11P.M. - 3 Bottles of Champagne or Spirit + 1 Free Drink Each Person + 1 Welcome Drink Prosecco Each Person - Maximum 12 People


1.750

€

DISPONIBILE

Dance Floor Table Area

- Dinner Buffet Included - Entrance at 8:30P.M. - 3 Bottles of Champagne or Spirit + 2 Wine Glasses Each Person + 1 Free Drink Each Person + 1 Welcome Drink Prosecco Each Person - Maximum 12 People


1.850

€

DISPONIBILE

Super Privè VIP Area

- Entrance at 11P.M. - 3 Bottles of Champagne or Spirit + 1 Free Drink Each Person + 1 Welcome Drink Prosecco Each Person - Maximum 12 People


1.900

€

DISPONIBILE



DJ Booth Table VIP Area - Dinner Buffet Included - Entrance at 8:30P.M. - 3 Bottles of Champagne or Spirit + 2 Wine Glasses Each Person + 1 Free Drink Each Person + 1 Welcome Drink Prosecco Each Person - Maximum 12 People
2.000

€

DISPONIBILE
Ecco 30 secondi di alcune delle canzoni che ascolterai sicuramente durante la serata
SUPER PRIVE' TABLE ~ Dinner Buffet Included – include accesso per 12 persone

Super Privè VIP Area – Dinner Buffet Included – Entrance at 8:30P.M. – 3 Bottles of Champagne or Spirit + 2 Wine Glasses Each Person + 1 Free Drink Each Person + 1 Welcome Drink Prosecco Each Person – Maximum 12 People

2.150,00

€

SUPER PRIVE' TABLE ~ Dinner Buffet Included – include accesso per 12 persone

2.150,00

€

DJ BOOTH TABLE VIP – Dinner Buffet Included – per 12 persone

DJ Booth Table VIP Area – Dinner Buffet Included – Maximum 12 People

2.000,00

€

DJ BOOTH TABLE VIP – Dinner Buffet Included – per 12 persone

2.000,00

€

SUPER PRIVE' TABLE – Entrance at 11P.M. – Maximum 12 People

~ include accesso per 12 persone – ingresso ore 23:00

1.900,00

€

SUPER PRIVE' TABLE – Entrance at 11P.M. – Maximum 12 People

1.900,00

€

DANCE FLOOR TABLE ~ dinner buffet included – include accesso per 12 persone

Dance Floor Table Area – Dinner Buffet Included – Entrance at 8:30P.M.

1.850,00

€

DANCE FLOOR TABLE ~ dinner buffet included – include accesso per 12 persone

1.850,00

€

DJ BOOTH TABLE VIP ~ include accesso per 12 persone

DJ Booth Table VIP Area – Entrance at 11P.M. – Maximum 12 People

1.750,00

€

DJ BOOTH TABLE VIP ~ include accesso per 12 persone

1.750,00

€

DANCE FLOOR TABLE ~ include accesso per 12 persone

Dance Floor Table Area – Entrance at 11P.M. – Maximum 12 People

1.600,00

€

DANCE FLOOR TABLE ~ include accesso per 12 persone

1.600,00

€

SUPER PRIVE' TABLE ~ include accesso per 8 persone – incluso Dinner Buffet

Super Privè VIP Area – Dinner Buffet Included – Entrance at 8:30P.M.  – Maximum 8 People

1.550,00

€

SUPER PRIVE' TABLE ~ include accesso per 8 persone – incluso Dinner Buffet

1.550,00

€

DJ BOOTH TABLE VIP ~ include accesso per 8 persone – Incluso Dinner Buffet

DJ Booth Table VIP Area – Dinner Buffet Included – Entrance at 8:30P.M. – Maximum 8 People

1.450,00

€

DJ BOOTH TABLE VIP ~ include accesso per 8 persone – Incluso Dinner Buffet

1.450,00

€

DANCE FLOOR TABLE ~ include accesso per 8 persone – include Dinner Buffet

Dance Floor Table Area – Dinner Buffet Included – Entrance at 8:30P.M. – Maximum 8 People

1.350,00

€

DANCE FLOOR TABLE ~ include accesso per 8 persone – include Dinner Buffet

1.350,00

€

SUPER PRIVE' TABLE ~ include accesso per 8 persone

Super Privè VIP Area – Entrance at 11P.M. – Maximum 8 People

1.250,00

€

SUPER PRIVE' TABLE ~ include accesso per 8 persone

1.250,00

€

DJ BOOTH TABLE VIP ~ include accesso per 8 persone

DJ Booth Table VIP Area – Entrance at 11P.M. – Maximum 8 People

1.150,00

€

DJ BOOTH TABLE VIP ~ include accesso per 8 persone

1.150,00

€

DANCE FLOOR TABLE ~ include accesso per 8 persone

Dance Floor Table Area – Entrance at 11P.M. – Maximum 8 People

1.050,00

€

DANCE FLOOR TABLE ~ include accesso per 8 persone

1.050,00

€

INGRESSO (DALLE 23)

INGRESSO (DALLE 23)
+ 1 DRINK INCLUSO
+ 1 BICCHIERE DI PROSECCO DI BENVENUTO

70,00

€

INGRESSO (DALLE 23)

70,00

€

INGRESSO CON BUFFET (DALLE 20:30)

NGRESSO CON BUFFET (DALLE 20:30)
+ 2 CALICI DI VINO
+ 1 BICCHIERE DI PROSECCO DI BENVENUTO
+ 1 DRINK INCLUSO

100,00

€

INGRESSO CON BUFFET (DALLE 20:30)

100,00

€