#CorsoComo #Djsetdasballo #Capodanno2021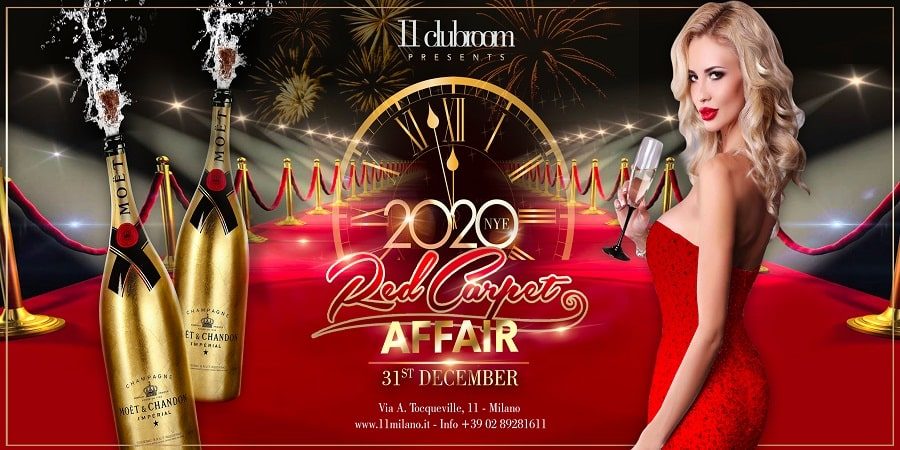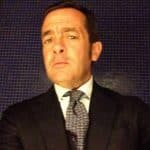 Capodanno Eleven 2021
Via Alessio di Tocqueville, 11,

Milano,

Italy
#Descrizione
BENVENUTI ALL'11CLUBROOM

11Clubroom è una location ricca di fascino, situata al primo piano di una palazzina Liberty, all'interno di un eclettico concept store, che prende il nome dal civico di via Tocqueville 11, a pochi passi dalla centralissima Corso Como.

Arredata con poltrone e divani in pelle dalle ampie sedute, ricorda un salotto aristocratico con dettagli vintage, e molta raffinatezza. Più che un club sembra una suite, con la terrazza, il salotto e la sala da bagno, realizzata esclusivamente con arredi Smania e Rossetti Lights su styling dello staff Visionnaire.
Di sera l'11Clubroom si trasforma grazie ai giochi di luce della bottigliera dietro al bancone bar, e ai grandi candelabri che creano un'atmosfera suggestiva e raffinata, ideale per un pubblico esigente e selezionato.

Le ampie vetrate a volta filtrano la luce diurna rendendo questo spazio adatto a un Capodanno 2021 in gran stile.
">
Il Dj set vi farà ballare tutta la notte con musica 360°!
La notte più colorata e divertente di Capodanno 2021!
Si trova nel cuore della movida milanese!
Tra le migliori discoteche di Corso Como!
New Year 2021
11Clubroom
Red Carpet: Celebrate the New Year by parading on the iconic Red Carpet like real Hollywood stars
Tuesday 31 December, 11Clubroom celebrates New Year's Eve giving life to a real VIP party, between bubbles and luxury, in the atmosphere of an elegant Gala.
The iconic Red Carpet has always been associated with a celebratory use and, since the last century, it has become the usual catwalk that accompanies Hollywood stars and celebrities from the entertainment world in their fashion show towards the most exclusive social events, such as the famous Academy Award Ceremony in Los Angeles.
Synonymous with luxury, elegance and charm, the Red Carpet limestone represents an exclusive experience and, certainly, out of everyone's reach.
If you are also among those who dream of experiencing this moment of fame, as real movie stars, you can't miss the December 31st appointment at the 11roomroom, from 20.30 (?) To 05.30 (?), For a one-night really special and exclusive party!
All in one night.
Imagine yourself in the company of your favorite actor, parading next to him, while hundreds of fans cheer your name. Ready to take a bath in the crowd, with flashes of photographers, selfies, bubbles and a touch of glamor?
The 11clubroom will be the perfect location for a terrific evening, which will have nothing to envy of a real Oscar night!
But the celebrations will not be only from midnight, for gourmets who decide to start with dinner there will be tasty and delicious dishes of the national tradition. You begin to imagine your dream dress, atmospheres and luxury: we make it real!
We are ready to unroll the Red Carpet: the countdown for the New Year's parade can begin ... what are you waiting for?
Menù Happy New Year's 2021
Appetizers
Noble selection of the grocer
Grain form with honey
Pecorino with pink pepper
Vegetable Crudites with citronette and vinaigrette
Fancy spelled salad
Bread making potential
Focaccia with coarse salt from the Himalayas
Shrimp with fennel and yogurt
*****
First course
Paccheri di gragnano with Pachino tomatoes, Taggiasche olives, fresh basil and stracciatella fior di latte
Fusilli with baked pumpkin cream, crispy speck and seasoned salted ricotta
*****
Main course
Tris of smoked with salmon, swordfish and tuna
Gourmet turkey roast with rosemary and sage
Cotechino with lucky lentils
*****
Side Dishes
Baked potatoes
Seasonal grilled vegetables
*****
Dessert
Panettone and Pandoro with Mascarpone
Party with 1 drink + 1 flute for the toast of midnight 40€

AVAILABLE
Buffet

with 1 drink + 1 flute for the toast of midnight

50€

AVAILABLE

Royal Buffet with 1 drink + 1 flute for the toast of midnight + 1 bottle every 5 people 100€

AVAILABLE

Table with 1 bottle included - VALID FOR 5 PEOPLE 350€

AVAILABLE
Ecco 30 secondi di alcune delle canzoni che ascolterai sicuramente durante la serata
Royal buffet

The fee includes:

* buffet

* 1 drink + 1 flute for the midnight toast

* 1 bottle for every 5 people

100,00

€

Buffet

The fee includes:

* buffet

* 1 drink + 1 flute for the midnight toast

50,00

€

Party

The fee includes:

* 1 drink + 1 flute for the midnight toast

40,00

€

Royal Buffet 2 persone 11 Clubroom + Pernottamento in camera doppia al Crowne Plaza Milano Linate

VALIDO PER DUE PERSONE (150€ a persona)

ROYAL BUFFET al 11 Clubroom + 1 NOTTE 300€ (31/12/2019 – 1/1/2020)

SU RICHIESTA: 2 NOTTI 370€ (185€ a persona)

3 NOTTI 440€ (220€ a persona)

La quota di 300€ include:

Royal Buffet per due persone al 11 Clubroom con 1 drink e 1 flute per il brindisi di mezzanotte ciascuno e 1 bottiglia ogni 5 persone *

Pernottamento in camera doppia al Crowne Plaza Milano Linate *

American Breakfast con croissant, selezione di brioche, selezione di torte secche, selezione di pani, pancake, etc… *

La colazione sarà servita fino alle ore 12:00

City tax *

Check-in il giorno 31/12/2019 dalle ore 15:00

Late check-out il giorno 1/1/2020 alle ore 16:00

300,00

€

Royal Buffet 2 persone 11 Clubroom + Pernottamento in camera doppia al Crowne Plaza Milano Linate

300,00

€

Buffet 2 persone 11 Clubroom + Pernottamento in camera doppia al Crowne Plaza Milano Linate

VALIDO PER DUE PERSONE (100€ a persona)

BUFFET al 11 Clubroom + 1 NOTTE 200€ (31/12/2019 – 1/1/2020)

SU RICHIESTA: 2 NOTTI 270€ (135€ a persona)

3 NOTTI 340€ (170€ a persona)

La quota di 200€ include:

Buffet per due persone al 11 Clubroom con 1 drink e 1 flute per il brindisi di mezzanotte ciascuno *

Pernottamento in camera doppia al Crowne Plaza Milano Linate *

American Breakfast con croissant, selezione di brioche, selezione di torte secche, selezione di pani, pancake, etc… *

La colazione sarà servita fino alle ore 12:00

City tax *

Check-in il giorno 31/12/2019 dalle ore 15:00

Late check-out il giorno 1/1/2020 alle ore 16:00

200,00

€

Buffet 2 persone 11 Clubroom + Pernottamento in camera doppia al Crowne Plaza Milano Linate

200,00

€

Serata 2 persone 11 Clubroom + Pernottamento in camera doppia al Crowne Plaza Milano Linate

VALIDO PER DUE PERSONE (90€ a persona)

SERATA al 11 Clubroom + 1 NOTTE 180€ (31/12/2019 – 1/1/2020)

SU RICHIESTA: 2 NOTTI 250€ (125€ a persona)

3 NOTTI 320€ (160€ a persona)

La quota di 180€ include:

Serata Ingresso normale per due persone al 11 Clubroom con 1 drink e 1 flute di spumante per il brindisi di mezzanotte ciascuno *

Pernottamento in camera doppia al Crowne Plaza Milano Linate *

American Breakfast con croissant, selezione di brioche, selezione di torte secche, selezione di pani, pancake, etc… *

La colazione sarà servita fino alle ore 12:00

City tax *

Check-in il giorno 31/12/2019 dalle ore 15:00

Late check-out il giorno 1/1/2020 alle ore 16:00

180,00

€

Serata 2 persone 11 Clubroom + Pernottamento in camera doppia al Crowne Plaza Milano Linate

180,00

€

Table

The fee includes:

* 1 bottle

* valid for 5 people

350,00

€