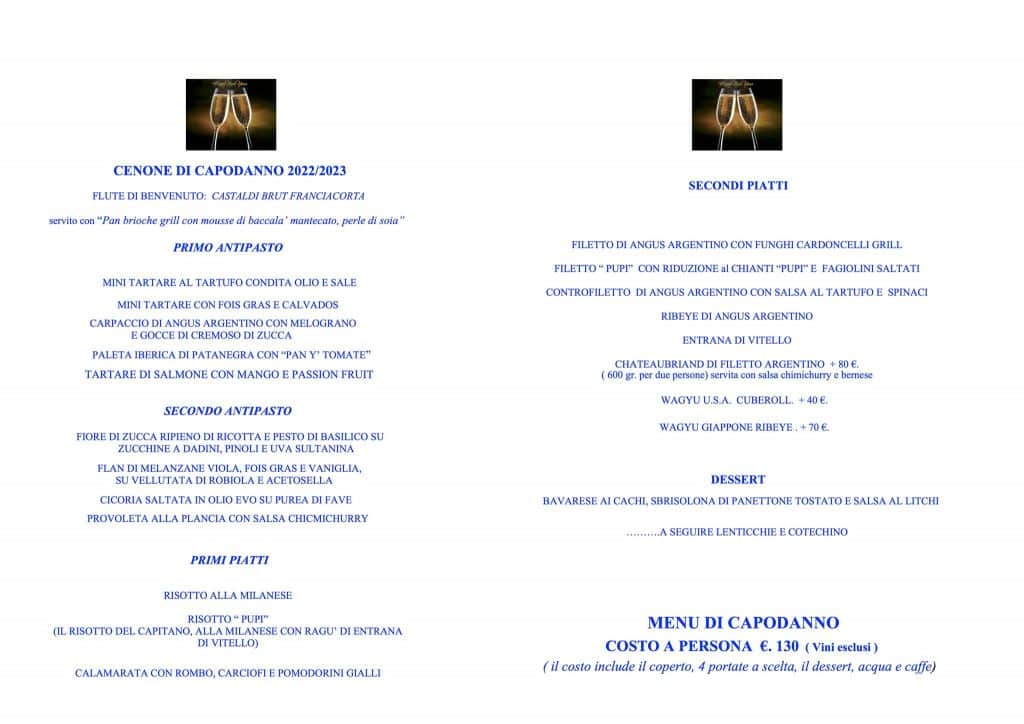 #Descrizione
CAPODANNO 2023
BOTINERO
Per questo Capodanno abbiamo creato un menù alla carta ridotto in modo che possiate scegliere ciò che più preferite!
Vi aspettiamo sabato 31 dicembre per festeggiare insieme l'inizio del 2023!
Ristorante unico nel suo genere ideale per gli appassionati del calcio!
Qualità della carne eccellente!
Servizio attento e preparato!
Nel cuore di Brera!
WELCOME TO
BOTINERO
In the heart of the splendid Brera area we find the Botinero, an elegant and characteristic environment at the same time, ready to satisfy demanding palates and football fans.
Botinero specializes in meat but the restaurant also offers Mediterranean cuisine with some well-prepared fish dishes.
All accompanied by an exceptional service to make the most of the end of this year and start 2023 on the right foot!
For information: +39 0265560840
NEW YEAR'S EVE DINNER
WELCOME FLUTE: CASTALDI BRUT FRANCIACORTA
served with "Pan brioche grill with creamed cod mousse, soy pearls"
***
FIRST STARTER
MINI TRUFFLE TARTARE SEASONED WITH OIL AND SALT
MINI TARTARE WITH FOIS GRAS AND CALVADOS
Argentine Angus Carpaccio with Pomegranate and Pumpkin Cream Drips
PATANEGRA IBERIAN PALETA WITH "PAN Y' TOMATE"
SALMON TARTARE WITH MANGO AND PASSION FRUIT
***
SECOND STARTER
PUMPKIN FLOWER FILLED WITH RICOTTA AND BASIL PESTO ON DICED COURGETTES, PINE NUTS AND SULTANINA GRAPES
PURPLE EGGPLANT FLAN, FOIS GRAS AND VANILLA, ON CREAM OF ROBIOLA AND SHARMOR
CHICORY SAUTEED IN EVO OIL ON BEANS PUREE
PLANK PROVOLETA WITH CHICMICHURRY SAUCE
***
FIRST DISHES
SAFFRON RISOTTO
RISOTTO "puPi"
(CAPTAIN RISOTTO, MILANESE WITH VEAL ENTRANA SAUCE)
CALAMARATA WITH TURBOT, ARTICHOKES AND YELLOW TOMATOES
***
SECOND COURSES
Argentine Angus Fillet With Grilled Cardoncelli Mushrooms
"PUPI' FILLET WITH "PUPI" CHIANTI REDUCTION AND SAUTEED GREEN BEANS
Argentinian Angus sirloin steak with truffle and spinach sauce
ARGENTINE ANGUS RIBEYE
VEAL ENTRANA
CHATEAUBRIAND OF ARGENTINE FILLET + 80 €
(600 g for two people) served with chimichurry and béarnaise sauce
WAGYU USA. CUBEROLL. + €40.
WAGYU JAPAN RIBEYE. + €70.
***
DESSERT
BAVARIAN WITH PERSIMMONS, TOASTED PANETTONE SBRISOLONA AND LITCHI SAUCE
.....FOLLOWING LENTILS AND COTECHINO
NEW YEAR'S MENU (wines not included) --> €130 per person (the cost includes the cover charge, 4 courses of your choice, dessert, water and coffee). For information: +39 0265560840
Ecco 30 secondi di alcune delle canzoni che ascolterai sicuramente durante la serata
No products were found of this vendor!